All-Index webinar. Register today.
Take part in a diversity survey with our conference partner, the All-in Diversity Project.
The All-in Diversity Project collect data through employee surveys and the All-Index – a standard index set to be the definitive bench-marking tool for the gambling industry to help measure progress towards inclusion in the workplace.
Register today for a FREE webinar to get all the information you need to participate in the All-Index.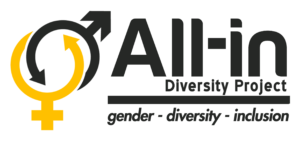 What is the All-Index?
The All-Index is a global industry standard index measuring progress for diversity and inclusion. It will provide a report on annual progress and make recommendations in various areas such as corporate governance, internal policies, recruitment practices, equal pay, employment legislation, unconscious bias and marketing. Companies are graded on a simple scale and the results will be published annually. The report itself will be anonymous. Individual operator scores will be kept private.
Why should your business participate in a diversity survey?
Demonstrate a commitment to your staff, shareholders and customers.
Assess your organisation's achievements and progress on diversity and inclusion.
Use the Index as a framework for improving the experiences of your staff. Plan work across other diversity strands.
Use results as ongoing benchmarks for internal diversity initiatives.
Receive in-depth consultative feedback on your submission as needed.
If you've already registered to participate in the All-Index or are considering if your business will participate, sign up to our FREE webinar: HOW TO COMPLETE THE ALL-INDEX.
Introducing Kelly Kehn, Co-Founder The All-in Diversity Project.

"We'll be walking you though the survey methodology as well as all 43 questions in the survey. You will leave with a better understanding about how to answer each question. In addition we'll tell you how responses will be used in our final publication.

We'll be hosting the webinar in APRIL 2018.
This FREE webinar will take you through the All-Index survey and explain how operators can get involved. Finally we'll tell you how the data will be used. Remember that no one will know their score unless they chose to share it.
Participate in this year's index and Register today for FREE and get all the information you need.
Register here.
http://allindiversityproject.com/allindex/webinar/