Increased regulation, responsible marketing and gaining customer trust
It's hard to have missed any of the recent debates and discussion around gambling advertising during the recent World Cup. So here's Paula Pusey, with a further insight into this and other recent developments around gambling advertising and marketing..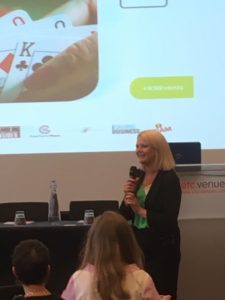 Paddy Power VAR advertisement.
I settled down to watch the England Croatia game with my Mum, husband and two daughters. We all laughed at the Paddy Power VAR advert. My 13 year old, who studies Mandarin at school, clocked straight away that the tattoo said egg fried rice! Although some of the themes such as references to Grinder, micro penises and swingers are not exactly child friendly, the advert was clever and funny. It didn't breach the CAP urgency clause that now applies to all gambling adverts. Finally, it certainly wasn't targeted at children.
World Cup gambling advertising.
There has been a lot of discussion about gambling advertising during the World Cup. Data from the research firm YouGov suggests that in the region of 6 million adults placed bets during the tournament and 2 million new accounts were opened. Another interesting anecdotal observation I've read is that more women placed a bet on the world cup than ever before.
The ASA are said to be investigating some 115 complaints. This suggests that some providers may have breached the new advertising code of practice around CAP guidance referring to creating unnecessary or inappropriate urgency such as "bet now" offers during live events.
The Italian blanket ban on gambling promotions comes into force as of January next year. This week Google has reported that it is updating its Italian advertising policies as a result. The Italian ban heralds the end to promotional activities reported to be worth some €200 million to media owners! I read today that LeoVegas have filed a formal complaint to the EU on the grounds that the ban violates EU rules around the ability of member states to restrict trade of goods and services. It will be interesting to see what happens here over the coming months!
Pressure from campaigners, politicians, the press and general public opinion remains steady in the UK with a very clear focus on promotional practices. Is this really fair I ask myself? It seems to me that the majority of operators and game developers are taking player protection very seriously.
Nobody Harmed by Gambling.
William Hill have announced the launch of their new corporate initiative Nobody Harmed By Gambling. Philip Bowcock, Group CEO stated in an open letter on this subject;
"We want gambling to be a fun part of people's spare time, which adds to the excitement of the sports they love. Gambling is meant to be a leisure activity, not a source of human misery. That's why we must recognise the hidden side of gambling and get much better at helping our customers stay safe, in shops and online, in the UK and around the world. Society expects it, our customers need it and a sustainable future for William Hill depends on it".
Sky Betting and Gaming pioneered putting social responsibility at the centre of their campaigns with the adverts they aired featuring Geoff Stelling addressing the viewer directly for the full 30-second advert talking about when the fun stops stop.
The 115 complaints being followed up by the ASA as well as the very real stories of how problem gambling can ruin lives indicate that there is still more to do.
Opportunity for the gambling industry.
The shrewd operators in the industry recognise that social responsibility makes very good business sense. Players are more likely to stick with operators they trust. The YouGov study that tells us 6 million people placed bets, also tells us that Sky Betting and Gaming took the biggest market share of that business with 30% of bets in the UK.
There is an opportunity here for the industry to promote a new era of mindful gambling. In turn they can capitalise on a changing audience profile. This positive shift will enable businesses to grow in a sustainable, responsible and ethical way. Collaboration between the industry, it's audience and those who regulate it is key to ensuring that business continues to boom.
Responsible Marketing for Gambling Operators.
We are going to be looking at all of the issues surrounding gambling advertising and promotional activity on 3rd October. Responsible Marketing for Gambling Operators will feature speakers from the Gambling Commission, ASA / CAP, leading legal specialists, industry experts and charities such as YGAM who will be running a ground breaking session on protecting the young and vulnerable.