Player Protection Forum and Workshop
Exciting times ahead at KnowNow HQ and next up we've got a brand new event to add to our portfolio: The Player Protection Forum. What's more this is followed the next day by the Player Protection Workshop, an invaluable days training presented by AMLGS.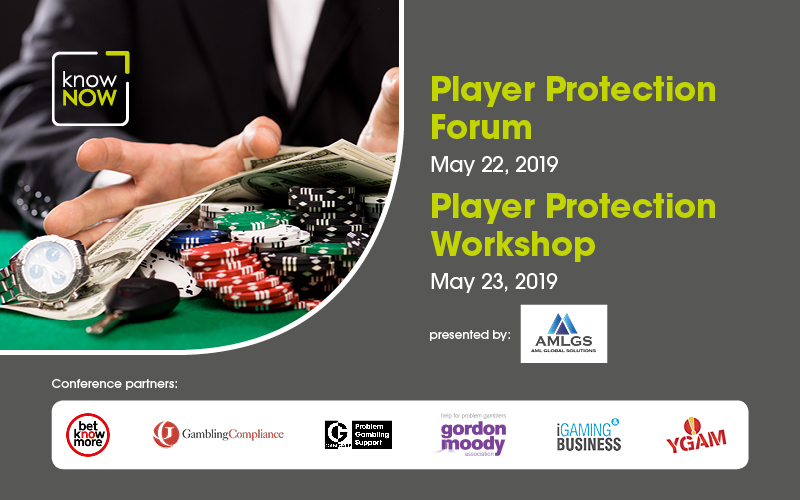 Player Protection Forum and Player Protection Workshop.
Player Protection is a key ethical and commercial issue for the gambling industry at the moment. However there is no simple solution and the industry is currently working on multiple fronts to address the problems and minimise harm.
Collaboration could be key and at this essential event we hope to help facilitate just that. So clear your diary on May 22/23 and join other key stakeholders to network and share best practice.
The Player Protection Forum.
This conference will look into the causes of problem gambling. The packed program will include current thinking about how to combat it both in terms of prevention and treatment. We'll also be talking about creating a business culture that supports best practice, spotting problems early and dealing with them effectively. We believe that change comes from within. Join us on 22nd May in London for what promises to be a lively and informative event.

The Player Protection Workshop. 
This exclusive training event from AMLGS will deliver key learning outcomes and on the day you can expect:
– Greater understanding of problem gambling psychology.
– How to identify the early signs (Red flags).
– The importance of Pre-Crisis Intervention (PCI).
– How to undertake customer interactions.
– Player Protection stages and treatment.
We want every remote operator to continue their fantastic work and capitalise on this opportunity to gain a better understanding of how to better protect your customers. Join us on 23rd May for the first of many interactive training events.
Contact us for more information.
Find out about our exciting sponsorship opportunities.
Coming soon from KnowNow Limited.