Protecting your business and your customers from harm: Your questions answered about our online training:
Recently KnowNow partnered with RightWay Compliance and Seventh Wave Training to bring you an interactive online training course. We delivered this twice to delegates over a five week period.
This is more than just a digital training course. We think of it as a training / consultancy hybrid. You'll get access to our experts over a 5 week period and they build an understanding of your specific needs. We'll tailor our advise and the content we cover to help you to develop, shape and sense check your strategy. Feedback from the last set of delegates was fantastic:

"I really enjoyed the course and it was nice to have the two different tracks. For me it was really helpful, I learned a lot and it was great that it was interactive. I think that's the best way to pick up the information."

Nicole Bernaerts, Regulatory Compliance Officer, L&L Europe Ltd
There has been a fair few changes and considerations during the International pandemic that mean those working in Compliance and Player Protection might need to bring in new ways of working and be aware of different regulatory guidelines.
This online training course is specifically designed to give you all of the knowledge and information you need to implement and maintain best practice in the new normal and beyond. Contact us today to discuss your compliance and player protection training requirements.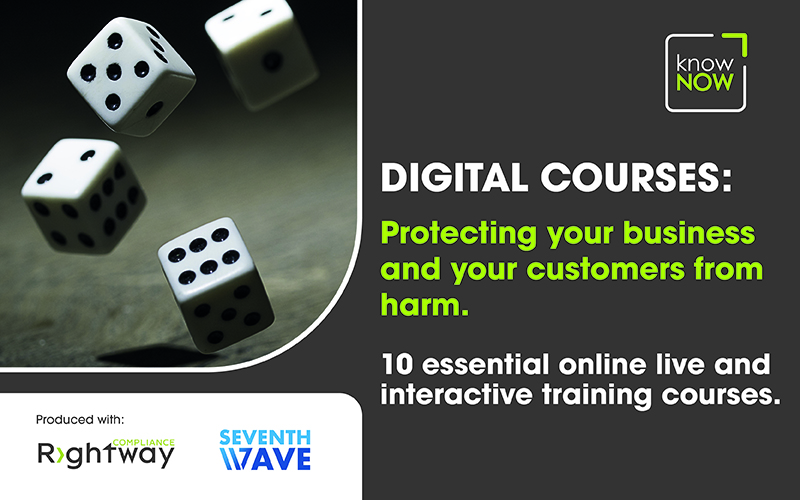 What are the benefits of attending the online training?
This online training will address key compliance and player protection considerations that have come out of the lockdown period. Setting you up to thrive under the current situation and beyond. We will address all topics from (1)  a legal / regulatory perspective, i.e what is expected of you and your organisation and (2) an ethical perspective, i.e what good looks like and what is best practice?
Our experts will take a balanced approach that will enable delegates to add value to their organisation from both a compliance and commercial perspective. We understand that gambling as an industry employs over 100,000 people in the UK alone and contributes considerable tax revenues. Also we understand that in order for you to keep doing that your businesses need to remain profitable. We will guide you through the best strategies to make the changes you need to make whilst keeping the welfare of your customers at the centre of everything you do. RG stands for responsible gambling, it also stands for revenue growth.
There is a lot to view online at the moment. What makes this different to other online events?
It is true that you can't seem to move for webinars at the moment which is great but the reality is that a lot of them serve the purpose of marketing tools for various organisations. There is nothing wrong with that and it is always helpful to gain knowledge and information.
Our training however is not just a series of webinars. It is live, interactive sessions. You will have direct access to the experts leading the course and you will be able to ask them specific questions gaining help and advice that is directly relevant to your business. You will also interact with other delegates on the course.
As well as the live sessions you will gain access to downloadable course materials for future reference. It is exactly the same as attending a live event but in a virtual world.
The training is our product, we are not trying to sell you anything else. Our aim is to help you do the best job you possibly can by sharing our valuable knowledge and expertise.
How much is it?
£1,495 for the entire course. That works out at only £149.50 a session making this a cost effective training solution for your organisation. You also get access to the training materials and video of the sessions to keep for future reference.
Can you give some more detail around the session format?
The course is divided into two tracks compliance and player protection. There will be a 90 minute interactive session from each track every week for 5 weeks. Each week you will get course materials to keep.
For specific content information click here.
Is this training aimed at a specific employee?
It can be attended by anyone looking to increase their knowledge and understanding of the topics. This can range from Senior management, MLROs, VIP managers and RG team members. The learning outcomes will provide specific guidance on best practice to take back and implement within your business
What is the reason for online training covering these topics?
Due to this pandemic we had to cancel our live events – although we now have some planned for 2021.
We partnered with Seventh Wave Corporate Training and Rightway Compliance to offer expertise in both the compliance and Player Protection areas.
We have previously held workshops and masterclasses which have all had good feedback from our delegates.
The Gambling Commission has issued new guidelines during this period that are highly likely to become part of the LCCP. We have also seen an increase in online fraud which you need to be aware of in order to protect your business. There have been numerous changes to marketing best practice across all jurisdictions that effects TV and Radio advertising, bonuses and online / social media marketing.
Who will be delivering the training on the day?
The Compliance stream will be run by Neil Tyson, Director of Rightway Compliance and accredited counter fraud specialist with over 20 years experience helping businesses take an ethical and proactive risk-based approach.
View Neil's full biography here.   
The Player Protection stream will be run by Adrian Sladdin, Director at Seventh Wave Training. Adrian is a familiar face in the industry. He has advised clients including Ladbrokes Coral, Lottoland, BetVictor and Playtech.
See Adrian's full biography here.
What makes this training a 'must attend' event?
The world we are operating in has changed. Practices need to be adapted to make sure that we are equipped to deliver a best in class approach to compliance and player protection in the "new normal". If you want to ensure you are meeting regulatory best practice and are doing it in a way that is operationally practical, then you need to attend.
Can I just attend the Player Protection training and my colleague the compliance?
Yes you can. Saying that we would recommend attending both to give you an overall insight into 2 areas that are connected.
We've designed this 2 track online training to focus on Player Protection and compliance. If you buy one course you can have 2 different people from your organisation attend a different track each.  
Contact Matthew Holley for further information: matthew.holley@knownowltd.com, +44 7734 215166.