Opportunity and threat or just opportunity?
Responsible Marketing for Gambling Operators is the next conference from KnowNow. Here's KnowNow Founder and MD, Paula Pusey with an introduction to this essential event…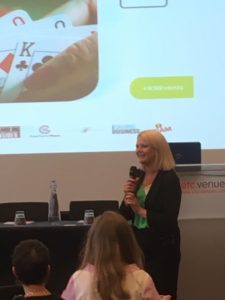 Talk about twists and turns and moving at a fast pace!
What an amazing couple of months we've seen in the gambling industry. There is so much to talk about, I don't even know where to begin.
FOBT maximum stakes cut to £2 per spin. Sports betting opening up in the USA. Re-regulation of the Swedish Gambling Market. Speculation about increased remote gambling duty in the UK. Meanwhile, another operator got hit with a £2million regulatory penalty.
It seems to me that the amount of opportunity opening up for the sector is something operators should be excited about. New markets, new types of customers in existing markets, new platforms, new technologies and new payment methods signal innovation and development everywhere we look.

Estimated 50% increase on betting during the World Cup.

I read this week that  £2.5billion is set to wagered during the World Cup. That's an increase of almost 50% on the last World Cup in 2014. Business is booming – life is sweet! But along with this success comes cries for increased responsibility.
Much of the increase in betting is being attributed to sponsorship and advertising leading to campaigners calling for a crackdown on advertising.
Radio 4's You and Yours programme analysed the commercial breaks of 11 games broadcast on ITV. They found that 62 of the 66 advert breaks during those games included at least one gambling advert sometimes two.
Kansspelautoriteit (KSA), the Dutch regulator, announced ahead of the tournament that they planned to closely monitor gambling activities before and during the World Cup to ensure that online operators aren't luring minors to gamble.
There was a front page news story recently about a 13 year old boy who managed to run up £80,000 of gambling debts on his Dad's credit cards after seeing promotions at a football match and the UK Gambling Commission has reiterated their intention to keep protecting children from gambling related harm. Let's face it, this is one of the key objectives of the 2005 Gambling Act. Gambling commercials can only be shown on TV after the 9pm watershed or during live sports fixtures, due to current regulation.
The regulator continues to come good on their promise to place an increased focus on AML and social responsibility breaches with the fine issued to 32Red last week. Speculation is rife that operator licences could be revoked with 5 companies known to be liable for licence review. Experts are talking about the prospect of the personal management licences held by company managers also being under consideration.
A new era of responsible gambling?
Surely this set of circumstances heralds a huge opportunity for gambling businesses to bring in a new era of responsible or even mindful gambling culture. We've seen operators like Sky Betting and Gaming placing social responsibility at the heart of their TV advertising campaigns. Finnish operator Paf have announced that they are set to implement customer spending limits to help curb gambling addiction. Paddy Power have pledged £10,000 for every goal scored by Russia during the World Cup to help fund causes dedicated to making football more LGBT inclusive. This is all great news.
In order to avoid gambling promotion going down the same route as tobacco advertising the industry as a whole needs to take action now and follow the lead of these trailblazing organisations. What an exciting opportunity this presents for business to continue to boom in a sustainable, responsible and ethical way.
Responsible Marketing for Gambling Operators.
The next KnowNow event will take an in-depth look at responsible gambling marketing. It will explore how to make the most of these opportunities.
We will be announcing speakers very soon. Book your tickets today and join us in London.
Agenda topics and tickets are available now.