I wish that I knew what I KNOWNOW, when I was younger.
With our 6th Annual Conference fast approaching we hand over to Rob Mabbett from Better Change. Rob has experience of safer gambling on both sides of the fence. Starting out in Betting shops Rob earned the title of Racing Post/SIS Betting Shop Manager of the Year in 2016. With lived experience of addiction and mental health as an affected other he then found his perfect move in 2018 joining charity Gordon Moody.
Now at Better Change read on for his thoughts on gambling and our past and forthcoming events.

I wish that I knew what I KNOWNOW, when I was younger.
Lucky 15.
My first day working in the gambling industry was on February 14th 2012 as a cashier in my local betting shop. Little did I know as I placed my first barely decipherable 20p lucky 15 into the scanner that this would be the start of an incredible journey that has taken me all over the world and has introduced me to some fantastic people.
I opened my first online account in the same year too, I was keen to learn my new trade and with no other betting shops in my home village and with me not being allowed to place bets with the organisation I worked for it was the only way I could try to get a grasp of the world of betting.
Free Bet.
I thought nothing of it at the time but when I opened my online account I was given a free bet worth £5. No gimmicks, no limit on the odds or how many times I needed to bet before I claimed anything just a £5 free bet. I decided to use it on a formula one race that afternoon and shortly after I placed the bet I received a phone call from the company that I placed the bet with. The primary purpose for the phone call was to confirm my identity but once that was done I remember having a good chat with the operator about that afternoons race, why I had chosen them to set up an account and other sports that I enjoyed, it was a great interaction!
The problem was I didn't really know how great that interaction was at the time. Sure I felt valued and I was loyal to that operator during my time working in betting shops, but it wasn't until later on working much more closely in safer gambling and speaking with people at events such as KnowNow that made me think about it.
Gordon Moody.
In 2015 personal circumstances made me think very differently about things, especially mental health, suicide and addiction. My cousin took his own life at 24 years old and my mother passed away after battling addiction and my father had become ill also as a result of addiction. You never know how you are going to react to massive life events such as these and for the next couple of years I buried myself in my work as well as raising awareness of mental health with my family. It didn't feel like I was doing enough and in 2018 after my father passed away I made the decision to join gambling addiction treatment charity Gordon Moody. It was a great move for me as I could develop my knowledge of mental health and addiction as well as continuing to work in the gambling sphere but little did I know that I was in for a quite a shock!
Player Protection.
I was very focussed on giving a great customer experience in the betting shops and to me that also means being focussed on player protection, I'll be honest I thought I was pretty good at it too. Yes I'd had interactions with customers which didn't go well and could sometimes become confrontational even, but I felt these were outweighed by the ones that went well.
Working for Gordon Moody however led me to realise very quickly that I had a lot of learning to do. With the charity itself I was working with some of the most severe cases of gambling addiction and I learnt a great deal from the clinical professionals and those with lived experience, not just about gambling but also (maybe even more so) about mental health. My role with Gordon Moody also exposed me to the wider sector of safer gambling and player protection which was vast. I was not aware that so much was being done in the research, education, prevention and treatment of gambling harm which if you think about it having formerly been an operator on the front line is quite sad, I would of benefitted massively from this wealth of knowledge at that time.
KnowNow Conferences.
It was both timely and very important then that in the early stages of my career with Gordon Moody I attended one of the first KnowNow conferences. It was not my first conference since moving from operator to treatment provider but it was the first one I attended where I didn't feel somewhat overwhelmed by the amount of information on offer. It was the first one where I didn't feel like I'd made a mistake in moving jobs or that I was underqualified to work in this space.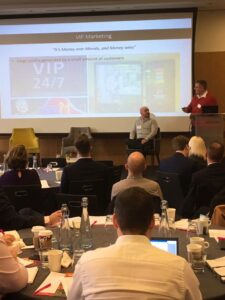 KnowNow events look at the bigger picture when it comes to gambling regulation. Whilst some events focus solely on business or player protection KnowNow looks at all aspects of regulation, from protecting the young and vulnerable to keeping crime out of gambling and making sure gambling is fair and open to all who consume it. What's more they are intimate events with leading professionals that are conducted in such a way that provokes conversation and debate which is essential to getting to the root of the issues of the time.
In the five years I have attended KnowNow events I have learned so much about the industry I work in and I have also contributed through presenting, panel discussions, speeches and above all joining in with those all important lunchtime and end of day debates in the pub afterwards. Not only has KnowNow been a great education for me in this industry it is also a chance to discuss topical issues frankly and amongst friends.
I will always be very grateful to the team at KnowNow for being so welcoming and supporting me in the early stages of my career. I would also highly recommend KnowNow events to any industry professional especially those starting out in the gambling industry and looking to educate themselves on all things compliance.
Better Change.
I am beginning an exciting new chapter in my career having joined Better Change an organisation focussed on preventing gambling harm through the promotion of Positive Play and look forward to speaking at KnowNow's next two-day event in September at their 6th annual conference.