New Training from KnowNow – Carrying out Remote Customer Interactions.
Don't miss our essential new training course – Carrying our Remote Customer Interactions. With the UK Gambling Commission recently publishing and then retracting its guidance regarding remote customer interactions this live and interactive virtual training will ensure that you and your team understand the new requirements and how to best implement them in your work.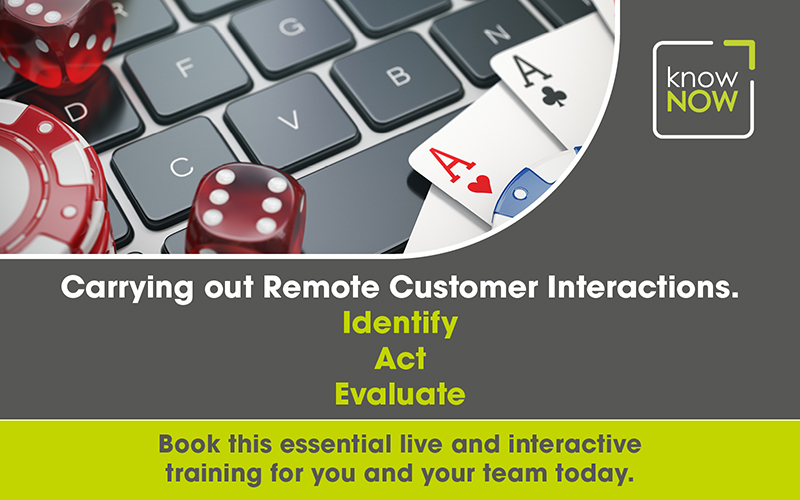 Carrying out Remote Customer Interactions – Identify, Act, Evaluate.
Who should attend?
Heads of Compliance, Compliance Managers, Heads of Risk, Senior Managers, C suite Executives and PML Holders.
Why should you attend?
Many of the new requirements of Social Responsibility Code 3.4.3 are now in place with others to follow in February 2023. It is key for senior managers across the organisation to understand the requirements and their role in implementing them effectively.
By attending this course you will gain reassurance that your operations are on the right track whilst also having the opportunity to take stock, think outside the box and discuss with your peers.
The absence of definitive guidance from the UK Gambling Commission means it is vital for operators to sense check their implementation of the new requirements to ensure they are truly focused on the right risks, that their actions occur in a consistent and efficient manner and that they can demonstrate positive impacts for customers.
What does the course involve?
Over Four interactive virtual instructor led sessions you will have the opportunity to hear from the experienced course tutors; raise questions; enjoy fruitful discussion and leave with some key practical takeaways to help you and your organisation.
The virtual sessions are backed up with other self-paced online learning materials including relevant additional reading and videos as well as recordings of the live sessions and copies of the slide presentations for you to refer back to for a year after the course.
Book this essential training today to:
– Ensure that you are fully compliant with the new requirements.
– Understand how technology can help you to meet the requirements and what your responsibilities are in relation to third party suppliers.
– Consider how you can prioritise safer gambling.
– Understand the key markers of harm and how to identify them.
– Be equipped to make the business case for safer gambling.
– Empower your team to embrace a culture of change.
Call us today on +44 (0)7734 215 166 or email matthew.holley@knownowltd.com to make arrangements for you and your team.