Meeting Regulatory Requirements Malta
Following the Player Protection event in May we're excited to announce that we'll be partnering with AMLGS again in September. But this time we're off to Malta. Yes! We're swapping our usual London location to present; Meeting Regulatory Requirements Malta.
A packed program on Day 1 will be followed by a fully interactive workshop on Day 2 covering AML, responsible gambling and blockchain developments.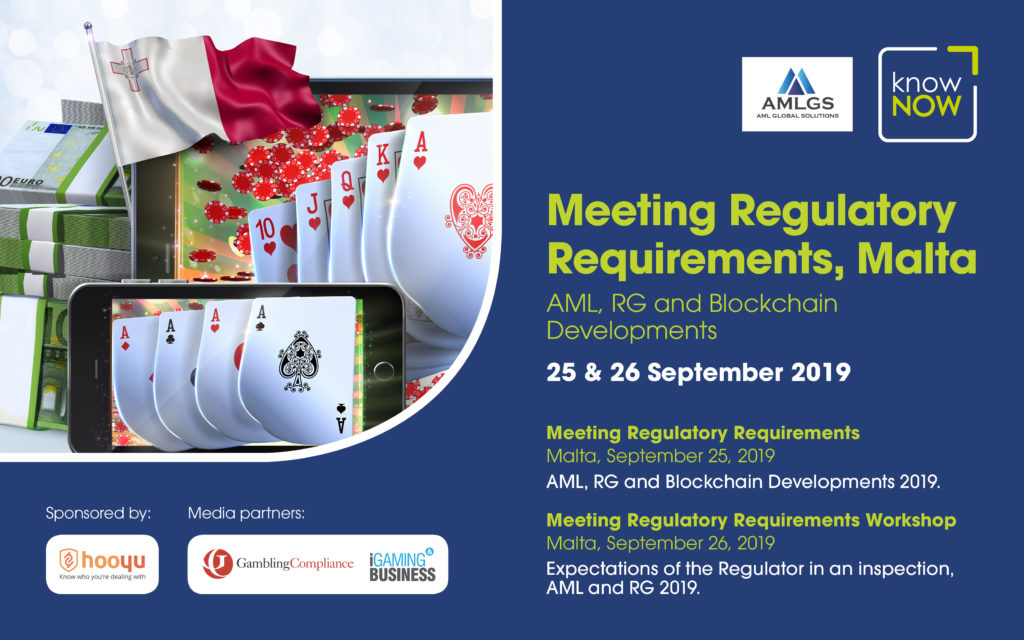 KnowNow Limited and AMLGS.
Our partnership with AMLGS brings operators key information from across the sector and essential training at the same time. The partnership ensures that, not only will operators now be informed on what to do but receive key training.
Find out more and book your tickets here.
Meeting Regulatory Requirements Malta – 25th September.
Sessions include:
Review of the MGA's updated regulatory framework.
Guide to player investigations and VIP customer intelligence.
Payments, problem gambling and meeting AMLD requirements.
AML and gambling. Understanding / assessing the risks and implementing organisational change.
Responsible gambling – being compliant is the minimum standard, what does best practice really involve?
Malta's DLT sandbox framework and regulating blockchain.
Meeting Regulatory Requirements, Malta Workshop – 26th September.
Training includes:
A key understanding of adequate completion and process of SAR/STR.
Identifying the early signs (Red flags) of Problem Gambling.
How to conduct comprehensive investigations for SOF and DD.
Undertaking effective enterprise & customer risk assessments.
How to be ready for a regulatory inspection, assessment or evaluation.
How to successfully incorporate AML and Responsible gambling processes.
Contact us for more information.