Maltese gaming regulations – a very serious regime.
Maltese gaming regulations will be under the spotlight at the next KnowNow and AMLGS collaboration – Meeting Regulatory Requirements, Malta. Here's an insight into the Maltese regulatory climate ahead of two days of essential learning and training.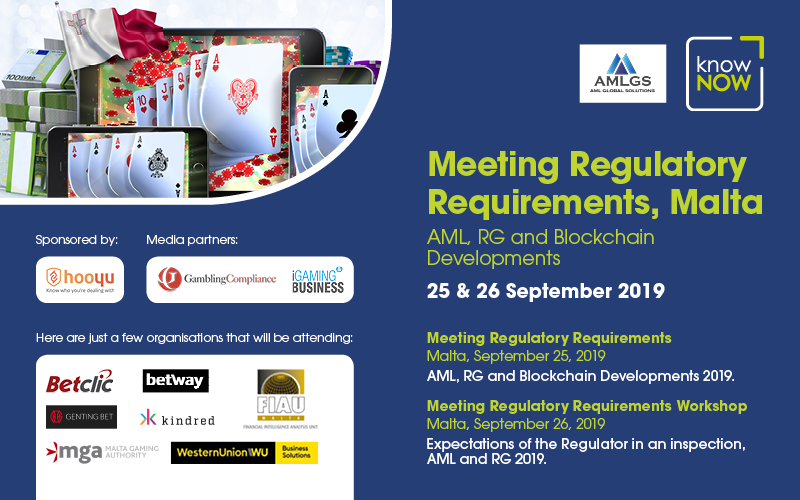 Maltese Gaming Regulations.
It is probably fair to say that historically the regulatory climate in Malta's gaming industry has been commonly regarded as more liberal than other regulated markets. The island, regards itself as the igaming capital of the world. It is home to some 275 plus companies in the sector. The industry contributes around €60 million in taxes and provides employment for about 6,400 people. Business is booming and digital innovation is celebrated there.
That does not mean however that responsible gaming and ethical growth is not just as high on the agenda for the regulator and the many businesses that call the island home as it is elsewhere.
Maltese Gambling Regulatory Framework.
The updated Maltese gambling regulatory framework, the Gaming Act 2018 came into force on August 1st last year and the MGA has wasted no time is showing that it will not shy away when there is cause to flex its regulatory muscles.
Since February this year there have been a number of licence removals and suspensions issued by the MGA. Unlike many other European regulators however, the MGA does not publish full details about the reasons behind the action. When pressed they have simply stated that the recent licence cancellations are related to "severe breaches … be they regulatory non-compliance or other issues which affect the operator's fit and proper standing" and that there is "a renewed focus on compliance from the MGA". 
The regulators stance seems to be that it can't supply further information. 
"In order not to compromise any investigations that may need to be performed by the Authority and/or any other competent authority".
One thing however is very clear. The regulatory regime is very much in line with the position taken by other regulators like the UK Gambling Commission. It is here to stay and the MGA are demonstrating that they are not afraid to tackle these issues.
Advertising Guidelines.
In a further development, last month the MGA set up an oversight committee designed to enforce their updated advertising guidelines.  This committee will also have the power to issue fines and licence suspensions.
The updated policies will apply to all forms of promotion. This includes those carried out by third party affiliates on behalf of operators.
Experts have speculated that licence suspensions are more than likely to be reserved for systematic violations such as marketing to people who have self excluded or content that could be seen as targeting children. However it has also been made clear that exact penalties may not be published. This means operators will need to be increasingly vigilant and know what to look out for when  it comes to promotions.
There seems to be three main areas of consideration for companies operating under a Maltese licence. These are AML, player protection and the responsible application of innovative technologies. 
Maltese Gaming Regulations covered at Meeting Regulatory Requirements, Malta.
AMLGS and KnowNow Limited have joined forces to put on an event in Malta on 25th and 26th of September. This is specifically designed to take a deep dive into all of these areas. The day will help operators ensure they remain compliant, observe best practice across the board and avoid regulatory action.
The conference on 25th September will bring together experts from across the industry. This includes advisors, suppliers, support services and the regulator to discuss their views and share their experience and insight. 
Meeting Regulatory Requirements, Malta Workshop.
AMLGS will be delivering a comprehensive and as always, very interactive workshop. The workshop is designed for attendees to not just simply sit and listen. All AMLGS workshops and training are designed to get delegates involved. There will be tasks, scenarios and open discussions where everyone is encouraged to participate to provide a platform of shared learning.
This specific workshop will deliver training and learning outcomes on the topics of AML, Responsible Gambling and preparing for regulatory audits and assessments. The AML section of the training will give delegates a detailed understanding of what is expected of them from both a regulatory and legal perspective.
Ray, AMLGS director said;
'We encourage proactive compliance. We want to help Maltese operators protect themselves against regulatory action. The best way to do that is to be a step ahead of legislation. Operators in Malta should be looking at the UK, where regulation has increased at a fast pace due to many operators opting for a reactive approach. The AML section will talk through where operators have got it wrong and how you can get it right. We will explain to operators in a clear and digestible format, what they need to do to meet and it some ways exceed expectations of the regulator'.
The AML training will be followed by a session that covers responsible gambling. This is a topic that Maltese operators will want to pay close attention to. The session will talk delegates through the signs of problem gambling, how to assess the risk and how to conduct a meaningful interaction.
Amid the AML and RG training, delegates will receive guidance on how to prepare for regulatory assessments. A key part of this session will focus on compliance health checks. We'll look at how, as an operator you can ensure you are meeting your compliance requirements and avoid being on the receiving end of enforcement action.
It is now crucial that the industry comes together to tackle the issues that could hurt it's reputation, promote continued responsible growth and avoid business critical regulatory sanctions.
Meeting Regulatory Requirements Malta is an independent event where everyone is encouraged to talk openly in order to get to the heart of the issues and leave with practical takeaways that will help your business prosper.

Book your tickets today and make sure that you are part of the conversation. Event Tickets for this timely, must attend two days are still available here.