Hello Boys! Diversity is not just for the ladies you know!
Only a few months to go until the next KnowNow conference, Equality, Diversity and Inclusion in the Gambling Industry.
Here's the latest blog from our MD Paula Pusey.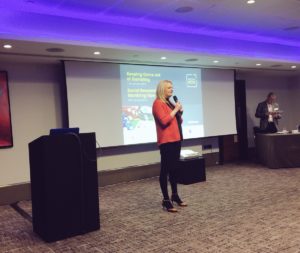 Recently I attended an options evening at my daughters school. At the tender age of 13 the pupils were being encouraged to consider what careers they might be interested in. Also how their choice of GCSE subjects now can feed into their future direction.
I'm lucky to have a daughter who is diligent and excels in all subjects. A friend jokes that she is rebelling against me and my husband and likens her to Saffy from Ab Fab! I'm not sure if that makes me Eddy or Patsy but I'm grateful either way.
We are lucky that the academy she attends has links with Deloitte. They have hosted workshops with the kids looking at their Myers-Briggs profiles and how this fits with future direction.
My daughter is keen to take subjects that will enable her to pursue a future career in technology. I'm disheartened to read this week that she is the exception and not the rule. A recent Tech City Survey of 1,000 people aged between 15 and 21 found that young women and girls are suffering from a "perceived lack of skills and self belief" when it comes to working in technology. They reported that only 13% of the young women they surveyed aspired to work in tech. This is compared to 36% of the young men!
So why am I going on about this? And what does it have to do with the gambling industry?
At the next KnowNow event – Equality, Diversity and Inclusion in the Gambling Industry, we will be hearing from Lydia Barbara, Head of Innovation at Microgaming about the links between diversity and innovation.
We will also hear from Johan Törnqvist, CEO at Play'n Go about the changing face of the customer and why it is so important to develop product for a diverse audience. These two topics are, in my opinion, key to the continued success of the industry.
It's also not just about gender.
We need to develop and market products that attract a changing audience taking into consideration different generations and cultural differences. It makes absolute sense that a workforce who reflect that audience are going to be better placed to deliver for them than one that doesn't.
I spoke to Neil McArthur, Acting Chief Executive of the Gambling Commission about this and he puts it better than I could, stating;
 "I don't see diversity as solely about gender.  Diversity is an important issue for every organisation.  Having people with different backgrounds throughout an organisation and especially on Boards and in senior positions has already been proven to lead to better performance.  That shouldn't be a surprise, as drawing on the widest possible range of skills, knowledge and experience is bound to lead to better governance, risk management and decision making.  That is why diversity – in all its dimensions – is an important issue for the Gambling Commission and those we regulate."
The importance of widening this discussion is also recognised by David Balls, Group HR Director at Rank who wrote recently;
"We have been focusing on gender diversity at Rank, with a desire to increase the number of women on our Board and Executive Committee, notwithstanding across the wider organisation. As a business our next step is to extend our focus to other areas of diversity, such as ethnic diversity, and more broadly to the question of maintaining an inclusive culture."
David will be taking part in our panel on the business benefits of diversity. Joining him, amongst others. will be Susan Standiford COO at Zeal. Susan and I joked recently that she is a rare breed because she is a senior woman in the gambling industry with a technology background. Behind that joke however there is a disturbing truth. We can all recognise the benefits of diversity. If we are to future proof our organisations, we need to invest time, energy and resources into this now. Ensuring that in the future Susan isn't such a rare breed at all.
It seems pretty clear to me that if you want a commercially successful, innovative business that attracts and retains top talent then diversity should be well and truly on your agenda. Your gender, ethnicity, sexual orientation or age are not the only things that should make this subject interesting. If you want a solid business, you should care about diversity!
Equality, Diversity and Inclusion in the Gambling Industry.
Find out more about the business benefits of diversity at our event on 22nd May. Tickets are now available for Equality, Diversity and Inclusion in the Gambling Industry