New training from KnowNow with Jason Shiers – Hot Transfers – Carrying out effective customer interventions.
Don't miss our essential new training course – Hot Transfers – Carrying out effective customer interventions. With the introduction of Identify, Act, Evaluate being introduced as a formal guidance under social responsibility code 3.4.3 gambling operators are now in a position where they have to be able to transfer players showing markers of harm in a 'hot transfer' to someone qualified to help.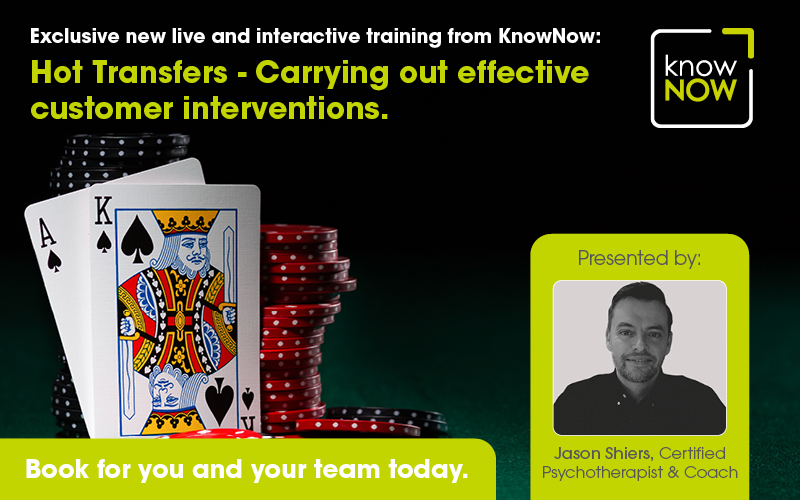 Hot Transfers – Carrying out effective customer interventions.
Carrying out effective customer interventions for operators plays a crucial role in player interactions but anyone whose job involves dealing with potentially vulnerable customers knows that, in the real world, this isn't as simple as following a script. Conversations don't always go to plan and effective interventions are about way more than ticking a box for compliance.
Book this course today so you and your team are qualified to effectively receive Hot Transfers and:
– Understand how to evaluate players, and know when to transfer them.
– Gain an in-depth understanding of the Inside Out Approach to problem gambling and addiction.
– Develop awareness and understanding to listen to and understand customers.
– Increase the effectiveness of customer interventions through more meaningful human connections.
– Identify customers who are experiencing problems and point them towards pathways to help.
– Feel empowered and able to receive a 'hot transfer' regardless of the reason.
– Get ongoing support from the team at Infinite Recovery for a year after (or longer).**
Who should attend?
This course takes place over 2 consecutive mornings and is designed for anyone who is customer facing in your organisation. It is particularly helpful for RG staff at all levels. It provides a new and human approach to identifying problem gambling and proving pathways to help. We can provide training for teams in this area so please contact us for more information.
Find out more about the course here.
Jason Shiers.

This course is based on the Inside Out Understanding of problem gambling and addiction by Certified Transformative Coach and Certified Psychotherapist, Jason Shiers. Drawing upon his own lived experience of managing addiction, working as a psychotherapist and 25 +  years of helping others, it is designed to provide anyone who interacts with your customers the in-depth understanding they need to really make a difference when it comes to player interventions.
We combine Jason's inspirational approach to dealing with vulnerable people and communicating effectively, tailored towards dealing with these potentially vulnerable people, and training someone who is able to take the 'hot transfers' in an effective way. We take a human approach that will enable operators to dig deeper into what is actually happening with customers and provide clear pathways to help for those who need it. It is a hands-on experiential workshop where delegates will need to turn on their camera, connect with us and the other delegates and really take part.
Once you have completed the sessions above we are happy to run a further session. This is an opportunity to come back once you have had a chance to see how this understanding shows up in your day to day life.
Hot Transfers – Carrying out effective customer interventions.
Costs.
1-5 delegates – £995 each.*
Please email matthew.holley@knownowltd.com for a quote for multiple members of your team.
Find out more and book for you and your team today.
* Would you like the training delivered to your team at your offices? Contact us today for a quote.
** Ongoing Support. Following the training we offer ongoing support. This could include monthly catch-up meetings and a support hotline to discuss and get further information on helping players, understand interactions and facilitate change. Contact us to discuss ongoing support to help your staff.